Musculoskeletal system
Nerve system
Training Assist System
Therapy Center

Real-time tensile force measurement system using sensor
2 Type


2 Sensors


Comparison of left and right value data before and efter measurement
Maximum 2 people available at the same time

6 Sensors


Comparing the measurement of the force values og the required parts using 6 sensors
Maximum 6 people available at the same time
① Mobile App Program : Download from Reference room
② Tensile Sensor_50kg 6개(77mm X 38mm X 21mm) / biner
③ Tablet PC (Mobile phone available)
④ 6 charge cable
⑤ Product case
⑥ Tablet stand
⑦ Uer's manual (print)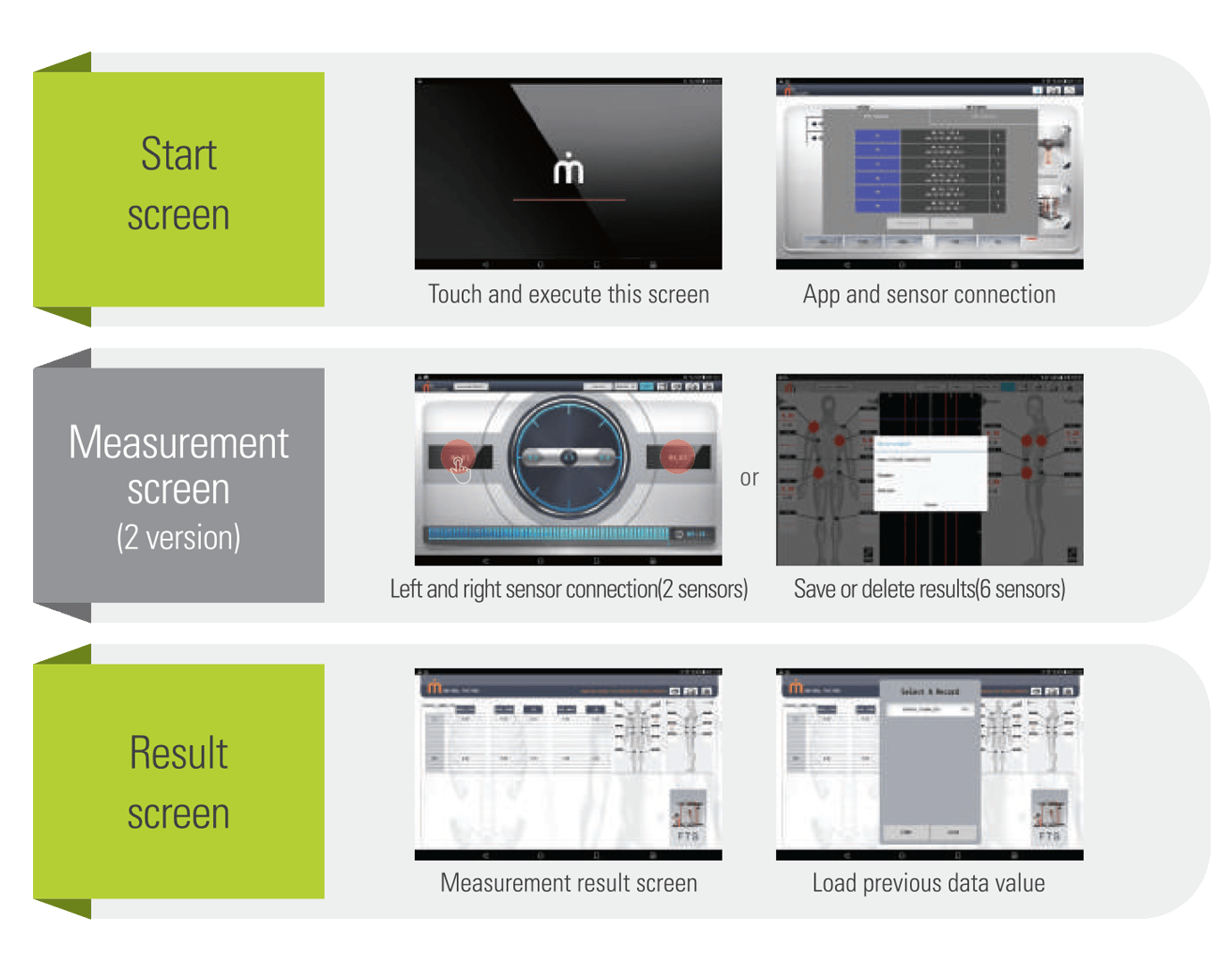 Used with the Functional Training System (FTS) for measurements and evaluations
It can be used with the FTS for rehabilitative exercise therapy after musculoskeletal or nervous system injury, sports injury, surgery, or other conditions, particularly scoliosis
Used for posture and movement evaluation for patients with musculoskeletal disease
Used during gait training for patients with central nervous system disease
Measurements and evaluations

Measurement of static and dynamic tensile force in three axes and planes
User's measurement history management and building a database
Printing report based on tensile force (PDF file saving function)

Training

Visual feedback training is possible by checking real-time tensile force. It is loaded with elastic rope in theree axes and planes and has guidelines video for keeping a natural posture while using the FTS.
Provides real-time guidelines video for maintaining a natural posture and movement patterns on the FTS.
It can check tensile force that is needed for a natural posture
It is possible to perform symmetric exercise training during bilateral weight-bearing exercise, functional training and gait training.